Sterling SVR Vertical Bandsaws 415v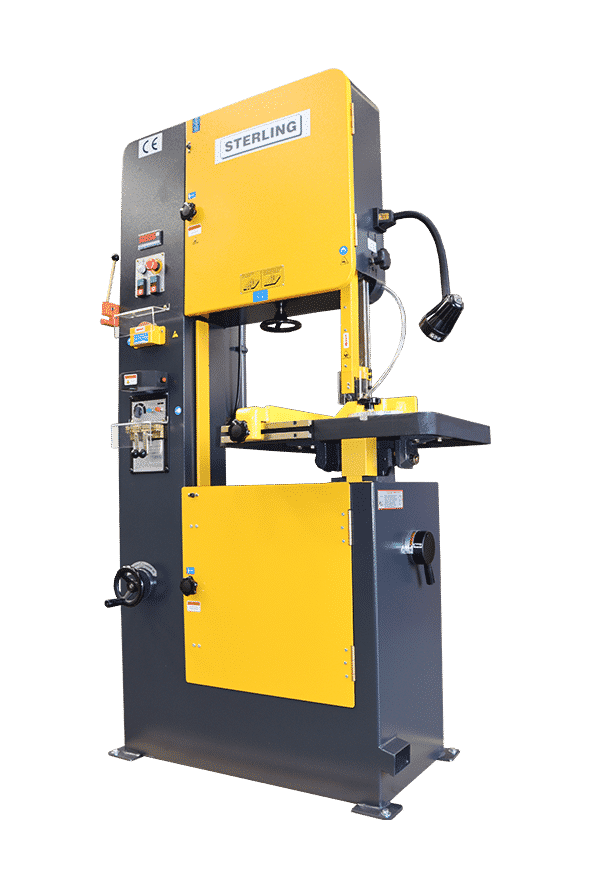 Sterling offer a wide range of sawing solutions including circular saws, horizontal bandsaws, twin column bandsaws and the SVR range of vertical bandsaws. The SVR range consists of four models of varying throat capacities. They are all equipped with blade shear, blade welder and grinder as standard equipment.
The blade can be set as narrow as 3mm, which is ideal for producing curved shapes and extends to 16mm. Together with the adjustable fence, this is perfect for straight cutting. With additional guards, the blades can extend up to a 27mm. Our range of vertical bandsaws are capable of cutting a variety of materials. These include: Iron, Steel, Plastic, Wood, Resin and paper. Constructed from fabricated steel, they are rigid, robust and made to last.
Vertical bandsaws are ideal for cutting angles, mitres and curved shapes. Vertical bandsaws are ideal for intricate work, where you need more finesse. Also, the blades are more flexible, and the machines themselves tend to be more economical than their horizontal bandsaw equivalents. They also take up less workshop space, ideal for small workshops where space is a premium.
We also supply bandsaw blades too, these can be purchased directly off our tooling website.