This month we have been celebrated as the business of the month at Business and Industry Today.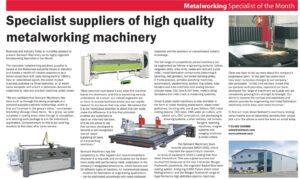 Read the Full Article Here….
Business and Industry Today is incredibly pleased to present Selmach Machinery as its highly regarded Metalworking Specialist of the Month.
The reputable metalworking solutions supplier is based at the Rotherwas Industrial Estate in Hereford and boasts a wealth of industry experience as a family consortium with roots dating back to 1800's.
Now an established expert, the widely trusted business operates via three branches, all of which come complete with a built-in showroom devised for customers to view and pre-test machines under power.
"We are confident that Selmach Machinery has been built up through the strong emphasis of a personal supplier-customer relationship, which is first and foremost in the group's ethos," commented Marketing Manager Clare Harris. "As a group, we pride ourselves in seeing every order through to completion, and tailoring each package to suit the individual's application. Complementary to this is our unerring devotion to first class after sales service.
"Real customer care doesn't stop when the machine leaves the showroom; and this is something we truly understand. As a result, our trained engineers are on hand to provide technical advice and can rapidly respond to any issues that may arise. We believe that it is our meticulous attention to detail that can really make the difference. It is this that ultimately enables our customers to reach an informed decision, and we are proud to say that we have developed to become a well-recognised market leader supplying all types of metalworking machinery."
Selmach Machinery has the competency to offer support and recommendations wherever it is required, and conclusions can be drawn more easily with performance trials undertaken in the company's designated showrooms, which feature over 50 different types of machine. All metalworking issues:
– whether for fabrication or engineering applications
– can be addressed accordingly with rapid employee response and the provision of concentrated industry knowledge.
The full range of competitively priced machinery can be segmented as follows: engineering products (lathes, magnetic drills, pillar drills, radial arm drill and turret mills), metal fabrication components (deburring & bevelling, belt grinders, horizontal bending press, H frame presses, portable punching machines, scrollmakers, steelworkers, section ring rollers, tube benders and tube notchers) and sawing devices (circular saws, CNC saw & drill lines, metal cutting bandsaws and roller track & measuring systems).
Sheet & plate metal machinery is also available in the form of metal bending pressbrakes, sheet metal guillotines, bending rolls, box & pan folders, CNC metal cutting plasma, CNC laser, CMS water jet cutters, antil robotic arm, CNC turret punch, coil processing & shearing systems, corner notches, roll formers, flangers, seaming machines, magnet systems and swaging machines & circle cutters.
The Selmach Machinery team recently attended MACH 2016, where they took the opportunity to promote an array of equipment whilst unveiling their four latest innovations. This was a great success and involved the showcase of the new interactive Morgan Rushworth pressbrake, the upgraded Baykal fibre laser cutting system, intriguing CIDAN Futura sheet metal folding solution and the Morgan Rushworth range of hyperformance high definition plasma machines.
Clare was keen to tell us more about the company's progressive path: "In the past two years there have been numerous changes to our company," she concluded. "In this time we have moved into our purpose built premises, expanded our team, developed the range of machinery we supply and are consistently growing from strength to strength. Our aim is to become the number one machinery and solution provider for engineering and metal fabrication machinery and to have even more branches."
To find out more about Selmach's machinery, tooling, consumables and all associated services then please pick up or the phone or send the team an email today.
T 01432 346580
sales@selmach.com
www.selmach.com
Published 6th June 2016