A bandsaw is a long-term investment, but there are a lot of factors to consider beforehand. Here are some of the key things to think about when making sure you get the best bandsaw for your needs.
Everyone has a price in mind when purchasing a bandsaw, it might be one of the first things you are asked about, but really you should be asked about what you need it to do for you because budget alone is just one of many different factors; available space, automation and bandsaw capacity are all factors that can affect a budget.
Don't cut corners when you are investing in a new bandsaw and bear in mind there are also risks that come with buying used machinery in terms of lifespan, maintenance and reliability. A very common problem with second-hand bandsaws is the cutting bed is often very worn from years of use. This often makes achieving a square cut on material almost impossible. There are times when the cheapest option can often be the one that ends up costing the most. With that in mind and before finalising your budget, it might be best to consider the other following factors.
#1 Space restrictions
When allocating a space for your new saw it is well worthwhile considering:
is in-feed and out-feed space suited to your material lengths? We recommend a low cost roller track set-up on both sides of the saw wherever possible. This can maximise material handling efficiency, reduce the risk of damage to your saw and most importantly minimise the risk of injury to the operator.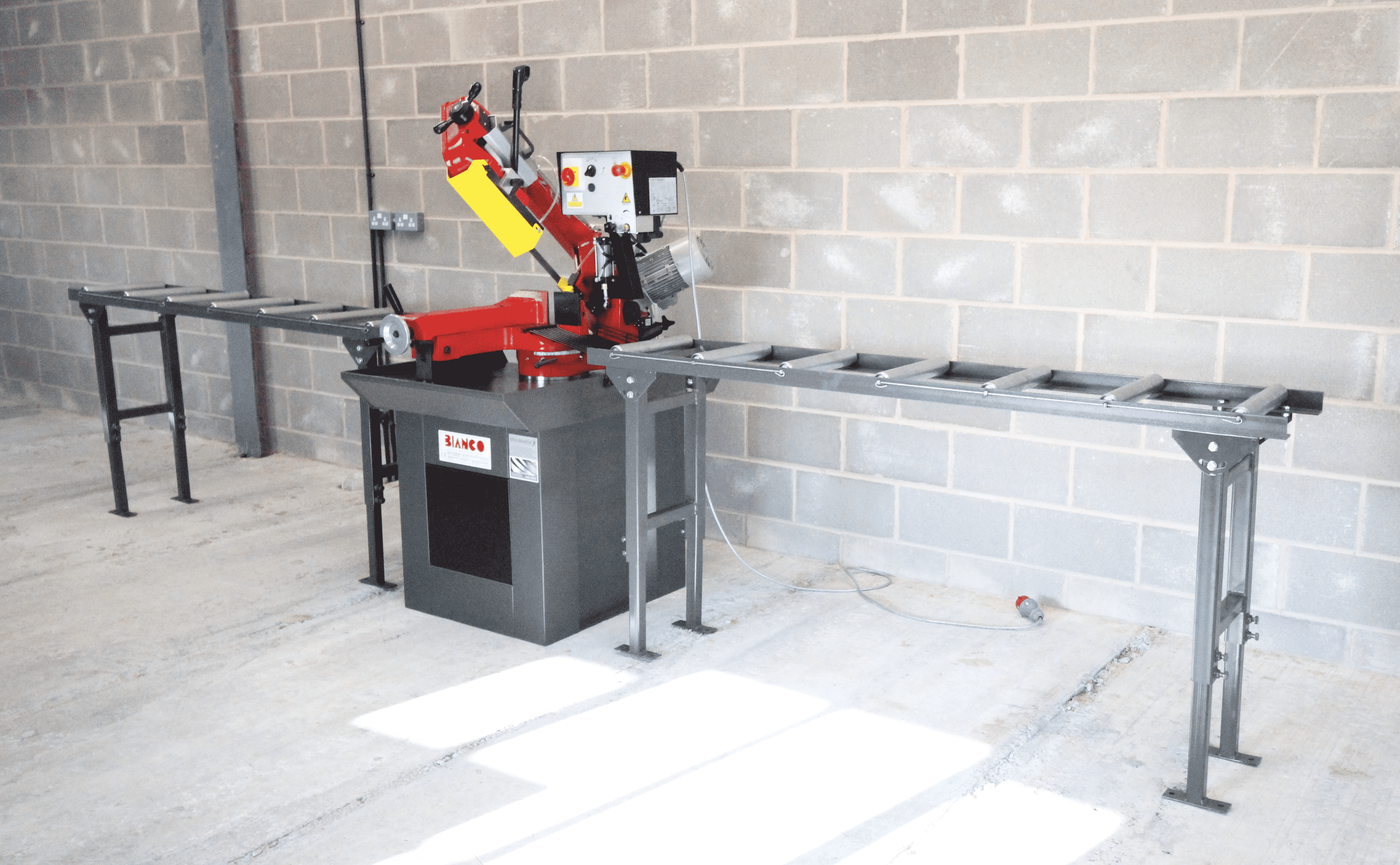 a material loading area beside your saw. The most user-friendly set-ups allow for forklift access to load material straight onto the roller tracks. Modifications can be made to most roller track sections to make unloading off fork-lift trucks effortless.
avoid cheap vice mitre saws wherever possible. Vice mitre saws are often inexpensive to purchase on the internet nowadays. However, unless you are certain of rarely needing to perform mitre cuts, then these are best avoided. Feeding material into the saw at an angle takes up a lot of space.
#2 Level of automation
You need to consider automation to ensure your next bandsaw purchase is a commercially viable decision. Each step towards greater automation increases the purchase cost and for many customers a higher level of automation isn't necessary.
Similarly, many businesses may attempt to make false savings by purchasing a bandsaw with less automation than they require. This can lead to a bottleneck in production lines as the bandsaw operation isn't as efficient as it needs to be.
To help avoid this, here are the different levels of automation to consider:
Manual – much like a standard chop-saw, this saw is fully manual. The bow is manually raised and lowered and the vice is manually adjusted. The operator has to be with the saw at all times while the saw is in use. These saws are often available in 240v or 415v and nowadays there is a wide variety of bow mitring manual saws on the market. Consideration should be given to whether the saw is single, dual or variable speed. For example, single speed is fine for cutting mild steel, however for stainless steel a slower blade speed (commonly 40m/min) is recommended.
Gravity / hydraulic down-feed – much like the manual saw but with a hydraulically controlled descending bow. The bow downfeed rate is adjustable on these saws so they fall at the optimum cutting speed. Hydraulic lock off is a popular feature on these types of saw as it increases efficiency by allowing the operator to raise the bow to just above the cut height of the material, meaning the saw is immediately in position for the next cut. These saws can have a number of other features such as double mitre, variable speed and angle finder (digital read-outs).
Semi-automatic – many people confuse semi-automatic with hydraulic down-feed. Semi-automatic does have hydraulic bow descent but also includes automatic height return, as well as often having a part stroke (touch on / touch off) hydraulic vice. Other common features on semi-automatic bandsaws include hydraulic cutting pressure adjustment and variable speed.
Vice feed automatic – programmable logic controller (PLC) – manual mitre. A PLC allows you to programme in an infinite number of cuts at a set length. For example, 50no cuts at 405mm long. You can then set the saw up to cut a different length such as 2000no cuts at 212mm long. Mitring is usually manually adjusted, therefore not part of the CNC operation. This means these saws are best for straight cut applications.
Vice feed automatic – computerized numerical control (CNC) – manual mitre. CNC allows the operator to programme different quantities and different length cuts in a single production run. For example, the operator can program the saw to cut 20no at 152mm long, 40no at 200mm long and 1000no at 255mm long, all in one operation. Mitring is also manually adjusted at this level of automation.
Vice feed automatic – full CNC – auto mitre. Much like the other machines, these bandsaws are full CNC machines in terms of programming, but with the addition of automatic mitring. This means the saw can be programmed with different mitring angles as part of the single automated cutting operation.
#3 Capacity
Due to budget or space constraints, it's not always possible to have a saw on site large enough to cut everything your customers require. The best advice here might be to choose a bandsaw capable of cutting 80% of your material throughput. For the occasions when you need to cut larger beams or tube, the key question to answer is, can you easily sub-contract these oversized cuts? If not, consider investing in a saw which is the right size and style to cater for all of your needs.
Below are a number of different style saws and their recommended cutting applications:
Small pivot action saw – ideal for quick and easy cutting of small profiles and flats. With dual or variable speed these saws can also be great for cutting stainless and aluminium. They are not built to cut large solid billets or beams, even if they fit within the saw's capacity, as the construction of the saw and the bow tends to be quite lightweight.
Medium pivot action saw – similar to the small pivot action saw but with larger cutting capacity and, therefore, a heavier bow. These saws are much more capable of cutting larger beams and solids which are well within their overall cutting capacity.
Large (heavy bow) pivot action saw – optimised for cutting structural steel and the bundle cutting of smaller materials. The heavy bow increases cutting stability in large material cuts and the frame and bed is reinforced to withstand the demands of a busy construction environment.
Twin column saw (vice mitre) – often used in engineering environments for cutting large solid billets into smaller lengths or for pipework companies which mainly straight cut large diameter pipe to bespoke lengths. Twin column saws provide maximum bow stability during cuts.
Twin column saw (bow mitre) – similar to a twin column saw (vice mitre) with the added benefits of bow mitre for ease of cutting large sections and solids at angles up to 60°. For long heavy lengths of material with mitred angles, a bow mitre twin column saw makes light work of cutting with minimal extra space required.
Vertical bandsaw – these saws come with various throat sizes / capacities and are largely used for cutting sheet metal or large flats. As the saw blade is vertical, it is much more efficient at cutting flats; the material thickness in the cut is consistent for the blade.
#4 Optional extras
There are several features and optional extras available on bandsaws which you may wish to look into in more detail. The most common ones are: 
Part stroke hydraulic vice – usually standard on small semi-automatic machines. Part stroke hydraulic vices speed up and automate the opening and closing of the vice jaw, enabling the operator to focus on feeding the material through to the next cut length.
Full-stroke hydraulic vice – recommended for larger saws cutting large beams and other sections as it helps to straighten material up in the vice, making the handling of heavy materials much easier.
Adjustable vice pressure – gives the ability to reduce the hydraulic clamping pressure of a hydraulic vice, a necessity for many thin wall materials.
Frequency converter (inverter) – for converting a bandsaw to a different voltage.
Variable blade speed – most modern saws come with dual speed as standard. Usually a slow speed (approx. 40m/min) for cutting stainless steel and large mild steel sections, and a fast speed (approx. 70m/min) for cutting general mild steel and aluminium.
Mechanical bundle clamping – enables top-down clamping of materials to create a more efficient cutting bundle. This is often used for box section and tube bundles.
Hydraulic bundle clamping – hydraulically controlled top-down clamping of materials to create a more efficient cutting bundle. This is often used for box section and tube bundles.
Digital read out – angle finder – for easy setting of the bow mitre angle.
Dry cooling device – where a wet coolant system is not suitable a dry coolant system is available. This consists of a control unit and injectors which spray a drop of oil on to the blade every 10/20 seconds.
Chip conveyor system – for automated removal of metal swarf from the saw cutting area, reducing the cleaning process.
Spray-mist coolant system – most commonly used for cutting specialist alloys and aluminium. Spray mist maximises the efficiency of coolant in a cut.
For more information on our range of metal cutting bandsaws and for help and advice to find out which might be right for you, please reach out to one of our specialists here.
Published 25th January 2021